2020 was a year where the need for mental health treatment skyrocketed due to stressors from the pandemic. In-person therapy essentially vanished. Therapists scrambled to continue their clinical work online while developing strategies to ensure their interventions remained effective. As a company that provides support for therapists, we knew our work in 2020 was more crucial than ever.
Here are a few highlights of what our team accomplished last year:
We grew our team
We at Lyssn were fortunate enough to be in the position of adding talent to our small-but-mighty team. And as a small company, every hire impacts our team in monumental ways. In 2020, we added talented team members for research, product development, server-side engineering, and human coding.
We developed a telehealth tool
Due to in-person counseling sessions being halted overnight we had to quickly find a solution for therapists seeking to record and review their sessions. In response, we developed a native, in-house telehealth tool, and then systematically enhanced its reliability and added new customer features over the course of the year. We wanted therapists to have a secure, HIPAA compliant, way to conduct therapy online.
We enhanced our platform in major ways
Our telehealth tool wasn't the only major change to our platform in 2020. We also developed a beta version of AI-generated quality metrics for cognitive behavioral therapy that we plan to continue to improve this year. These metrics are now available to therapists and trainees in our session reports, along with our AI-generated metrics for motivational interviewing.
We also developed and released an entirely new speech pipeline using cutting-edge speech-to-text models that improved our transcription quality by 50%. I'll repeat that: 50%! We were thrilled to include this update to our platform and we've received notable feedback from therapists. One therapist noted the improved speaker identification and transcript helped them search their session to review a specific intervention to help complete their clinical note.
We expanded the customers we serve
University counseling centers and training clinics are central to Lyssn's mission in helping therapists do their best work. Our team has a number of people with mental health training and we all recall the difficulties recording and reviewing our sessions while training. This past year, we more-than-doubled our university training clinic customers across the US.
In addition to therapists-in-training, we are also collaborating with enterprise customers that are utilizing Lyssn metrics to monitor evidence-based treatment implementation and provide therapists feedback at larger agencies. We are excited about these collaborations.
We found creative ways to stay connected as a team
Lyssn was a remote company prior to the pandemic but we relied on quarterly in-person retreats to spend time in-person. Last year we sought creative ways to stay connected as a team. We had a book club and we all read and discussed 'Uncanny Valley' by Anna Wiener (we recommend!). We also scheduled periodic digital happy hours and finished the year with a secret snowflake gift exchange. One spontaneous team bonding activity was the viewing of various SpaceX and NASA rocket launches throughout the year. Our favorite was probably SN8, but Falcon was great too.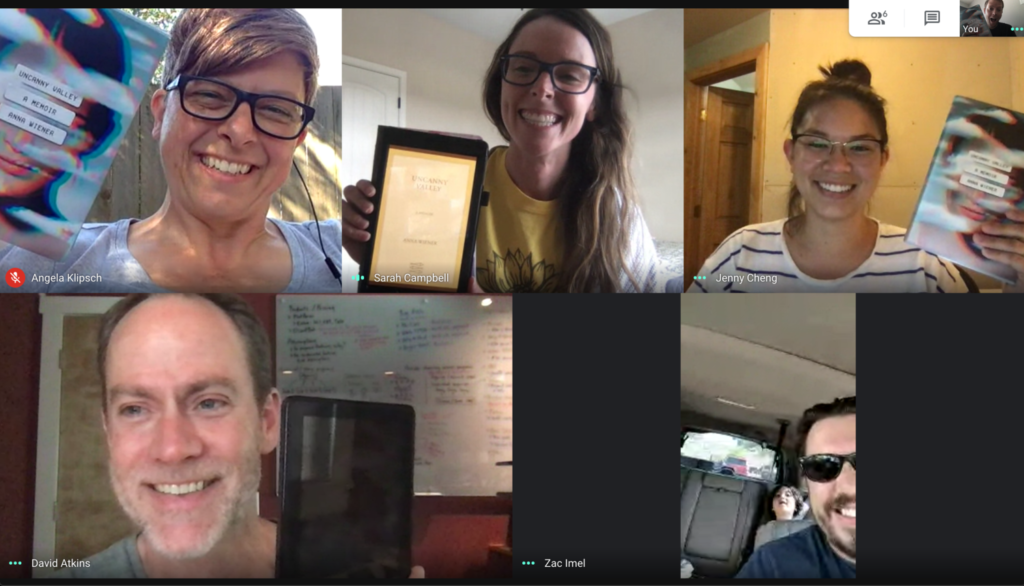 Heading into 2021, we are excited to introduce a number of features we are currently developing. Like any good supervisee, we are open to feedback and we constantly seek feedback from therapists using Lyssn to build and improve their experience. We hope there will be a gradual return to in-person therapy (and in-person events in general) while knowing telehealth will play a significant role in mental health delivery going forward. Finally, we hope we can turn the corner on this pandemic and return to a life with some level of normalcy, one where we can reconnect with distant friends and spend time with loved ones.
Want to stay up to date with Lyssn? Check out our blog posts, follow us on social media (LinkedIn, Twitter, Facebook) and subscribe to our email list.