Session summaries for everyone
From day one, a goal at Lyssn has been to provide clinicians, coaches, care managers, and supervisors with informed insights into their member or client conversations. We designed and trained our AI platform to deliver a level of consistent and reliable information unlike anything most care providers have ever experienced before! Every individual session receives quick and actionable feedback for empathy, listening skills, and fidelity to Motivational Interviewing and Cognitive Behavioral Therapy.
While it's awesome and, frankly, groundbreaking to receive automated feedback on individual sessions, it couldn't be aggregated across multiple sessions, until now. As clinicians and coaches continue to use Lyssn and broaden their skills, they've told us that they would like to be able to measure and understand their metrics over time and across different clients. We listened and developed Lyssn Analytics to meet this need!
Lyssn Analytics
Lyssn Analytics is a fast and easy way for clinicians, coaches, supervisors and more to view Lyssn's clinical metrics across caseloads and over time. The view varies based on the user's role. For example, clinical administrators can view data across all providers at their clinic, supervisors across their supervisees, and clinicians and coaches for all their clients or members. The visualization varies in two ways: clinical metric and time. Metrics of interest can be selected (e.g., empathy, talk time, agenda setting) and displayed over the past week, month, year, and all time. Here's an example of what that looks like: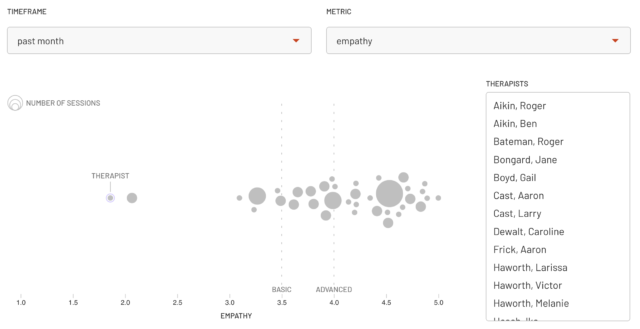 The layout of Lyssn Analytics is designed to be fun and interactive. The chart represents each clinician or coach (or each member/client within a provider's caseload) as a bubble, and their bubble is positioned along a scale based on their average score of the selected metric. 
The bubbles are interactive – you can hover over them for a brief summary (average score and number of sessions) and you can click the bubble to drill down into your caseload. Additionally, we added a list to the right of the visualization so you can quickly find a clinician or client of interest to review.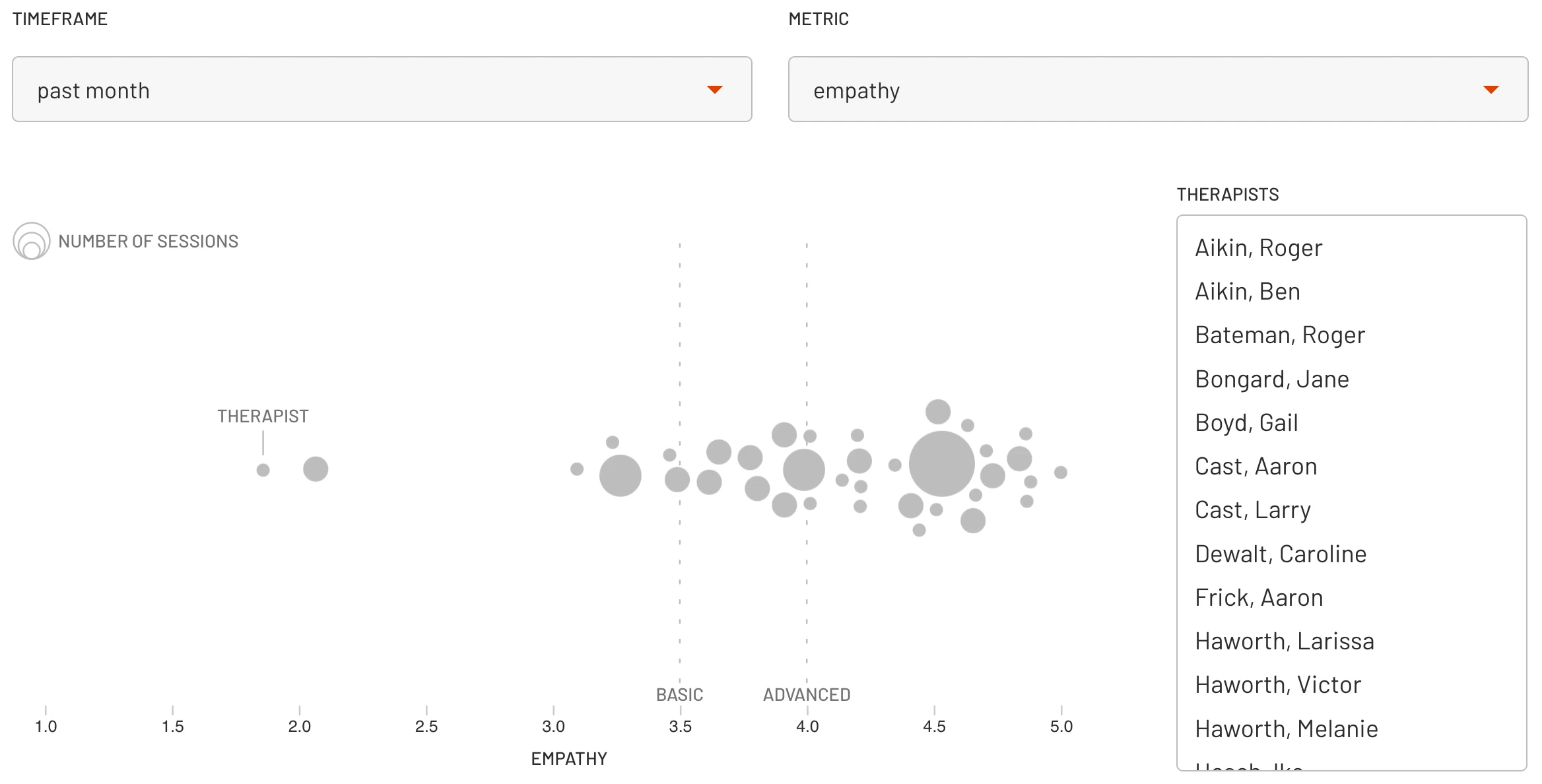 In addition, we've added another new feature: motivational messages. These notes pop up to offer additional insights, encouraging messages, and praise. Clinical and coaching work can be challenging, and we know how important it is to celebrate the wins and growth mile markers along the way – these motivational messages are designed to do just that!

Lyssn Analytics in practice
Let's walk through an example of how it works… this is where it gets fun. Let's say you supervise five coaches or clinicians. One in particular, let's call them Mel, catches your eye because their average empathy score is quite a bit higher than the other four. You want to take a closer look at how they're doing across their caseload and give them some tangible feedback to reinforce their awesome work and see if you can use this information to help your other providers grow. 
You click on Mel's bubble to drill down into their caseload. Each bubble now represents one of Mel's clients and you can see their average empathy score for each client. You see that your Mel is doing remarkably well connecting with their clients, with the exception of one client, Kobi, with whom they have a lower average empathy score. So, you click on Kobi's bubble to drill down into their sessions and you can see Mel's empathy score for each session with Kobi. You can use this information to identify specific sessions to discuss with Mel to help them work with Kobi as well as they are with their other clients.
Lyssn Analytics will continue to evolve
There's more we want to offer Lyssn users in this new aggregated view. For the drill down, we will include the ability to view an individual session's audio and transcript by clicking a session bubble. We also plan to expand the metrics available, so you can explore additional dimensions of a session. And as always, we want this process to be simple and easy. We love customer feedback so please send us a note if there are ways we can improve Lyssn for you or your organization's workflow.